No Toons, Just Me
Who am I? First and foremost, I am an educator with a passion for technology and training. I have an extensive background in integrating and managing technology in the educational environment while providing staff development opportunities for teachers, parents, and administrators. I have gained these experiences as a high-tech teacher, school technology facilitator, district trainer, and district technology administrator.

I've been fortunate enough to conduct conference workshops, sessions, and keynote presentations where my topics ranged from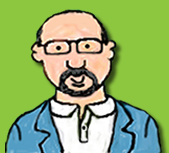 Web authoring to Internet integration. I've presented at the ISTE Conference, the Florida Education Technology Conference, the Georgia Education Technology Conference, the Michigan Association for Computer-Related Technology Users in Learning Conference, Texas Computer Education Conference and more.

During my second career, I've managed the design, development and delivery of custom workshops, camps and conferences for K-12 districts and schools. Being a hands-on person, I also developed and devliverd professional development programs for technology integration, data-driven decision making, and one-to-one laptop initiatives. In recent years, I've managed an e-learning team in designing and developing elearning solutions for product implementation training.

Ladd M Skelly

For Comments and Suggestions
Please email me at
ladd.skelly@gmail.com.